all titles

croatian titles

english titles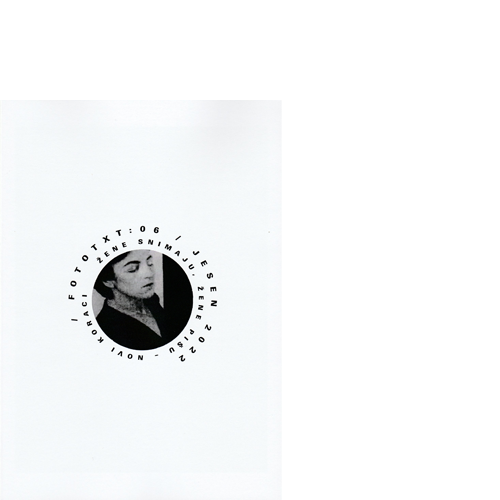 In the focus of this edition are the art critics who followed the domestic photographic scene from the 1950s to the early 2000s and contributed their texts to understanding and…
In this edition of fototxt, art historian and theorist Leonida Kovač writes about the collages of Nada Vrkljan-Križić, while art critic Darko Šimičić writes about those of Inka Švertasek.
Four generations of photographers — Masha Bajc, Ana Opalić Ivan ica Privora Kurtel, Jadranka Fatur, Daniela Lushin, Erika Šmider and Slavka Pavic — were presented in this issue.
The third issue of Fototxt is dedicated in its entirety to the avant—garde exhibition "Phony Smile. Language of photographic interpretation and aesthetic speculation".
Davor Konjikušić combines photographs and his own diaries, creating an emotionally powerful artistic view of the world around us. All of the photographs were taken in Southeast Europe.
FOTOTXT's second issue introduces the works of four artists — Sandro Đukić, Peggy Buth, Ivan Petrović and Božena Končić Badurina
under common theme of "our history" — three artistic poetics are assembled, three authors that the media of photography uses to refer to the often invisible mechanisms, "politics of sight".
this publication is completely dedicated to Martek's work in photography, presenting the medium as a conceptual form. It gathers works created in the period from the 1970s to today.
The monograph collects a series of photographs taken between 2006 and 2016, in some of the numerous business and office premises belonging to the domestic bureaucratic and administrative system.
a series of analog black-and-white photographs, showing always the same frame — the surfaces of the sea and the sky divided precisely by the horizon and framed by the rocks.
"Hana Miletić's camera does not record what could be referred to as spectacle (for masses). Her view does not sting; it does not set rules nor makes judgment."
"Mrđenović takes on an active position, position of the observer. He is not interested in giving us an embellished image of reality, but aims to provide certain kind of knowledge."
"I find it difficult when looking at these works to avoid questions about the status of not just photography but representation more broadly in a post-postmodern world."